By Chitra Sawant
As a writer-director, Chaitanya Tamhane's creations are considered masterpieces that speak a distinct language. Having received worldwide laurels for his films, 'Court' (2014) and 'The Disciple' (2020), this Mumbai-based filmmaker was featured by The Hollywood Reporter as 'one of the world's most promising film-makers under 30'. 'Court', an extraordinary fiction film was premiered at the Venice Film Festival, and has won the FIPRESCI award presented by the International Federation of Film Critics twice, at Venice and in Buenos Aires at BAFICI. It was awarded the Best Film – Orizzonti and the Lion of the Future award. 'The Disciple' won the FIPRESCI International Critics Prize at Venice. His films challenge the stereotypical mindset associated with vital issues, which are often neglected by mainstream films. In this interview Chaitanya talks about his films, its characters, the process and future of filmmaking.
Your films talk about the human experience which creates a great impact on the audience. How do you manage to bring those so powerfully on the screen?
Chaitanya Tamhane: I keep trying to do that. I don't know how successful I am at doing it, but I think a lot of it comes from following a process that is guided by your intuition, but also an understanding of film as a medium and understanding the craft. So when your intuition and this craft sort of fall into a certain marriage, I think that's your best shot at trying to successfully transform your personal experiences into a film, or into a cinematic experience. It's a lot of hard work. It's a lot of patience and persistence, and like I said, following the process and doing your best, as per your understanding of the medium to put something out.

Do you think your films can change the way people look at Indian films?
Chaitanya Tamhane: I don't know. I don't think you can really control how people see something or what change is brought about by your work; but all I want to do is put my work out honestly. And if it changes someone's perception, or someone's way of looking at Indian cinema, that is a bonus. I do try to put out stories that challenge people's perception of what is Indian, or what constitutes India, because a lot of my work is showcased internationally. And even within the Indian landscape, some of my work can be seen as a little bit different or challenging. But I think cinema in that sense, is a universal language. And I'm very grateful for the audience that I have.
From where do you pick and choose these characters which seem so real?
Chaitanya Tamhane: I look at it from a real life lens, from my personal experience, and also mixing in some imagination and collating different experiences of people you've encountered and ultimately transforming them into certain characters. But I think the truth is a good guiding point for a lot of this.
You have chosen the most neglected but yet extremely important issue of our society in the film 'Court'. How did you zero in on it?
Chaitanya Tamhane: It was the reflection of whatever I observed in society, what I was discovering as a 23, 24-year-old about caste politics, about the resistance movement, about unlawful detentions and arrests, and also just how class divide works in a city like Mumbai. It is majorly a compilation of a lot of research, a lot of reflection, a lot of observation of the city and its various subcultures. Going to courtrooms, talking to people, interviewing advocates, a lot of that. And questioning of my own upbringing, my own politics, kind of assimilated into the script of 'Court', which again, took a lot of patience, persistence, and time to write. It took me almost two years to write the script.
How do you communicate with your actors/artists who are senior to you in the industry?
Chaitanya Tamhane: Once you start working, there is no concept of senior or junior, there's an actor and there's a director. Even a new actor can have an ego and a very senior actor can be very generous, kind, and open. So I don't think there's any one formula, or that it's based on seniority. It's just that you have to find a way of communicating with different actors in different ways, and each person is its own unique challenge for a director, in that sense.
Your films have deep meaning, they proceed at their pace, yet they don't seem to be boring. How do you ensure they hold the audience's attention?
Chaitanya Tamhane: Well, I'm glad that someone thinks my films are not boring! But yes, for me, being engaging is very important. There's always a subtext of humour in many of the scenes, there's always an underlying dramatic tension in the scenes that I try to construct. So, if it's engaging to me, I assume that it's engaging for the audience. And yes, I don't ever want to be boring, in that sense! And I always want the scenes to be loaded with tension and drama or humour. So that I think is probably the reason you know, some people think it's engaging.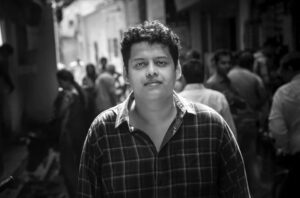 How has your experience been, working with Royal Stag Barrel Select Large Short Films for your film 'Next, Please'?
Chaitanya Tamhane: It's been a great experience, because the kind of freedom that I've been allowed, the kind of resources that they provided me, and the kind of trust that they have shown in me – to take my time, to work with the director that I want to, or work with new directors whose work they hadn't seen – because now I've made two short films with them – they only went by my judgement and my assurance to them that I will deliver a product of a certain quality. This is the only brand I've worked with, you know, I generally hesitate from doing brand work or advertising. But it's been incredible, it's been such a wonderful experience dealing with such reasonable, such kind, generous people. And the kind of faith that they have shown in me that it's a pleasure to work with them.
What, according to you, is the future of short format films?
Chaitanya Tamhane: I think films, and what we now define as films, are getting shorter and shorter, because the attention spans of people have changed and even other mediums which are like 30 seconds, one minute, are taking over the internet and taking over what people are consuming. So short films have a future, in that sense, because the way ideas are now condensed and compressed into shorter durations and still being successfully communicated – it says something about not only our attention span, but also the new discourse, which is more concise and snappy.